Christie Slashes Democrats' Pension Payment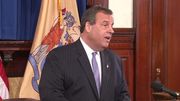 Gov. Chris Christie as he vetoes New Jersey budget tax hikes less than a day after the Legislature sent Christie a budget raising taxes on the wealthy and corporations. Christie stripped more than $1.6 billion from the 2016 Democratic budget and signed a roughly $34 billion budget into law. Trenton, NJ 6/26/15. (Photo by Adya Beasley | NJ Advance Media for NJ.com)
NJ.com - TRENTON - Gov. Chris Christie is failing government workers by using his veto power to strike $1.8 billion for public pensions from the state budget, state Senate President Stephen Sweeney said Friday.
The budget Christie signed Friday leaves $1.3 billion for pensions, about a third of what's required by actuaries to keep the fund solvent.
In a rare Statehouse news conference Friday, Christie disposed of tax increases on the state's high earners and corporations sought by Democrats to pay for retirement benefits.
Lawmakers said the $1.1 billion in additional tax revenue would allow the state to keep its promise to public workers to step up payments into the system.
"For the third budget year in a row, the governor is breaking his promise by failing to make the pension payment required under the law he signed in 2010," Sweeney (D-Gloucester) said in a statement. "Unlike last year, when state revenues plunged, this year the governor is refusing to make the required $3.1 billion payment even though state revenues are rising. Our budget showed that the pensions could be funded in a fiscally responsible way."
Democrats were estimating tax collections would come in $700 million higher than Christie's projections over two years and had planned to spend that revenue on pensions, as well. But Christie reduced the pension payment to $1.3 billion, the same funding level included in his budget proposal, saying Democrats were overestimating revenues and overtaxing New Jerseyans to prop up a broken and bloated pension system.
"I will continue to put as much money as we can afford to put into the pension system, but not a nickel more," Christie said.
The state portion of New Jersey's public pension system is $40 billion short of what it would cost to pay for future benefits. Every $1 the state shorts the system now will eventually cost it $3, Sweeney argued.
Labor unions quickly panned the governor's vetoes, accusing him catering to the wealthy and corporations at the expense of hundreds of thousands of active and retired employees.
"No one should be surprised today," said Hetty Rosenstein, state director of the Communications Workers of America. "Whenever given a choice, Chris Christie stands squarely with millionaires and corporations over working people every single time."
Wendell Steinhauer, president of the New Jersey Education Association, accused Christie of sacrificing the health of the pension system and scapegoating teachers to boost his political ambitions.
This article appeared on nj.com authored by Samantha Marcus.
http://www.nj.com/politics/index.ssf/2015/06/christie_slashes_democrats_pension_payment.html#incart_river