More Employee Concessions Are Not What Healthy Police And Firemen's Pension System Needs | Opinion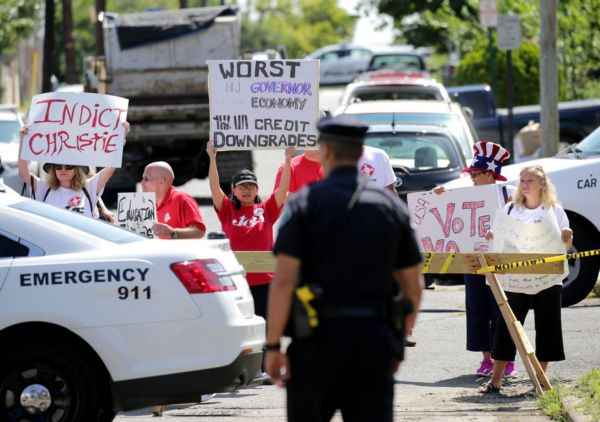 Protesters wait the arrival of Gov. Chris Christie at Hope Hall in Camden, Thursday, July 16, 2015. Volunteers of America Delaware Valley Hope Hall is a residential community release program. Photo by: Tim Hawk.
NJ.com - When we are talking about pension reform in New Jersey it is easy to get lost in political double-speak. Much of the media coverage, including a recent Star Ledger editorial and every stump speech delivered by Gov. Chris Christie, suggests that without more employee concessions there will soon by no more pensions to save. But when you break down the pension system into its unique and independent pieces, a brighter picture becomes clear.
In order to see this picture the public needs to know the whole story. The facts are this: the pension system for law enforcement officers and firefighters is healthy, structurally sound and, at the local level, being 100 percent funded by employers and employees alike. This is an important distinction because the facts don't fit so neatly into the governor's narrative of impending pension doom and massive tax hikes designed to scare the public and bamboozle the N.J. Legislature.
In many ways, the Police and Firemen's Retirement System doesn't even belong in the larger discussion. In fact, the governor's own highly regarded Pension and Benefit Commission admitted that they never looked at PFRS when they did their research. When looking at the PFRS system aside from the other pension funds, every number and actuary report shows a healthy system that needs continued payments and smart investments to grow. If we want to have an honest discussion then let's truly lay all the cards on the table.
The state needs to stop playing games with the retirements of hardworking law enforcement officers and firefighters. For example, the sleight of hand trick the governor has been playing with PFRS employee contributions. The pension reform law of 2011 increased PFRS employee contributions from 8.5 percent to 10 percent, an increase most law enforcement officers were happy to pay to enhance their pension fund. But rather than keep this additional money in the system where those hundreds of millions of dollars would have been invested to date to further reduce pension costs, Gov. Christie chose to use our additional contributions to offset other spending in the state budget. He called it "property tax relief." In law enforcement, when one person takes money promised by law for one reason and uses it for something completely different, we call it fraud.
One of the most frequent responses to whether more pension reform is needed is that employee benefits are "unsustainable." The message of sustainability for PFRS benefits is the product of years and years of misleading information by the governor and others who continue to play games with employee and employer contributions to the pension system, including giving supporters millions of dollars in advisory fees from pension monies.
That is not to say that the health of the pension system for teachers and other state employees doesn't face significant financial challenges without the actuarially required state pension payments. But those employees have zero control over whether the governor will do what he promised in 2011 and what we all know he won't do now that he is running for president. To suggest that any union should offer additional concessions for what they already gave up fits Albert Einstein's definition of insanity – doing the same thing over and over again and expecting different results.
The N.J. State PBA will continue to look for innovative ways to preserve and strengthen our pension fund for the future. We've been engaged in meaningful analysis with successful national public employee pension fund managers and state and local government leaders looking for ways to keep PFRS secure. It's unfortunate that the governor has failed to step out of campaign mode and work honestly on these issues. "Telling it like it is" sounds more like "Telling it the way I wish it was" for those of us who have been dealing with him since 2010. I only hope that the press and our legislators will do a better job telling the state that the pension fund for law enforcement and firefighters is doing well and, with leadership in Trenton, will continue to grow.
Pat Colligan is president of the New Jersey State Policeman's Benevolent Association.
This article appeared on nj.com authored by Pat Colligan.
http://www.nj.com/opinion/index.ssf/2015/08/more_employee_concessions_are_not_what_healthy_pol.html#incart_story_package